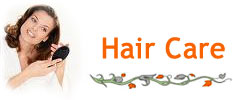 Alindra Herbal Shampoo

Description:

A specially formulated herbal shampoo which penetrates scalp-skin and cures all infections including dandruff. It conditions the hair and keeps it healthy, soft and naturally lustrous. Its daily use keeps all scalp and hair problems away.

Ingredients:

Amla, Shikakai, Methi, Menhdi, Sugandh Kokila etc.
Bhringraj Hair Oil

Description:

This oil strengthens the roots of hair and giving it natural shine and softness keeps head cool. It also cures chronic headache and premature greying and falling of the hair.

Ingredients:

Bhringraj, Brahmi, Amla, Harad, Baheda, Nagarmotha, Camphor, Sandal, Mertle, Jatamasi etc.
Brahmi Amla Hair Oil

Description:

This wonderful hair-oil is prepared from Brahmi and Amla which are nature's boon for all kinds of hair. Besides lending natural beauty and lustre to hair it has curative effect on loss of memory, mental debility and chronic headache. Very useful for students and brain workers. Hair oil for whole family.

Ingredients:

Brahmi, Amla, Sandal, Shankhpushpi etc.

<< 1 | 2 | 3 | 4 >>