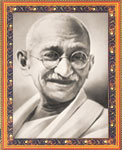 Mahatma Gandhi
Khadi is not merely a piece of doth. It is a philosophy. A way of life. A symbol of empowerment of pride of history of a great man's vision of the relevance of roots.
A window to India, carrying the smell of the soil. Blending the wisdom of the old with the needs of the present. Offering way to return to nature.
Handspun, Hand woven, Refind, Pure, Elegance nurtured in the lap of the earth. An excellence Beyond just mechanical perfection.
A gift for today from the treasury of the past. A gift from India.