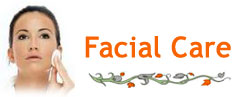 Herbal Facial Cleanser
Honey-rosewater-lemon
Pure honey containing vitamin B & C along with active enzymes, hydrates and softens the skin. Natural rosewater tones the skin while balancing lemon oil cleanses and purifies it.
Herbal Facial Cleanser
with tea tree & lemon
An ideal combination of tea tree & lemon extracts, it provides deep skin cleansing and protects it from pollution grime, leaving it nourished along with a vibrant glow. Best for oily and problem skin.
Herbal Neem Facial Cleanser
with neem & lemon
This unique facial cleanser is ideal for deep cleansing., removing impurities & preventing pimples. The anti-bacterial & anti-septic properties of neem & astringent property of lemon protects the skin from infections & decreases acne type lesions, leaving the skin fresh & clean. Maintains moisture level & preserves elasticity of skin. The lemon peel extract draws out younger skin.

1 | 2 | 3 | 4 | 5 >>