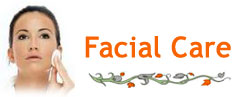 Neem Herbal Face Pack

An instant face lifting & firming treatment that helps sagging & ageing skin. It acts as a natural anti-septic, it's regular use gives the skin lasting firmness, resilience & controls pigmentation, acne & pimples.
Herbal Cream Face Pack

An ancient receipe, unique in its properties. For a smooth, radiant and brilliantly polished skin. It comprises of mild herbs, sandalwood, aloe vera, honey & rosewater. Cleanses skin of infections, toxins & dirt's. Removes dead cells & refreshes the skin.
Herbal Anti-Acne & Pimple Cream

This herbal anti-acne & pimple cream is an excellent combination of rare indian herbs and mild cream base. Anti-bacterial herbal contents cures pimples, clear marks and herbal nutrients give fair and glowing complexion.

<< 1 | 2 | 3 | 4 | 5 >>