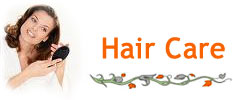 Anti Dandruff Hair Cleanser
with tea tree & rosemary
Antidandruff hair cleanser contains tea tree oil & neem oil which is anti-bacterial, anti-fungal and prevents dandruff by eliminating microbial infections of the scalp. Rosemary is good in treating dandruff and other scalp infections.
Saffron Reetha Protein Hair Cleanser
for dry & dull hair
An excellent herbal cleanser with conditioner for hair & scalp. A frequent use herbal cleanser contains saffron & reetha which nourishes the hair with proteins, strengthens and hair from the roots and prevent hair loss. It also has a mild anti-dandruff action and controls scalp itching.
Neem Sat Hair Cleanser
with neem & tulsi
Anti-dandruff hair cleanser for hair and scalp. Enriched with neem, tulsi, tea tree & rosemary, the most effective natural anti-dandruff agents, These herbs give the cleanser cooling, anti-bacterial and anti-fungal properties. Treats dandruff, itching and other scalp infections.

<< 1 | 2 | 3 | 4 | 5 | 6 >>