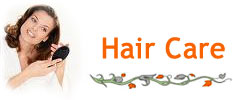 Herbal Hair Conditioner
with jasmine & aloevera
This rich creamy formula which blends pure coconut cream and incredibly nourishing hibiscus milk is an absolute treat for normal to dry hair. Tremendously nutritious, it restores moisture to the scalp and leaves the hair beautifully conditioned and glossy.
Sesame Hair Oil
an ideal remedy
A blend of traditional herbal ingredients, which include the extract of mulethi, amla, bhringraj, shikakai and pure sesame oil works together to enhance the benefits of a revitalizing head massage. Stops premature greying and falling of hair.
Anti Dandruff Hair Oil
with tea tree & rosemary
Anti-dandruff hair oil contains tea tree oil & neem oil which is anti-bacterial, anti-fungal and prevents dandruff by eliminating microbial infections of the scalp. Rosemary is used in treating dandruff and other scalp infections.

<< 1 | 2 | 3 | 4 | 5 | 6 >>